Online MOV Converter
Convert file to MOV or from MOV to other formats in one click
Pro MOV Converter on PC, Mac & Android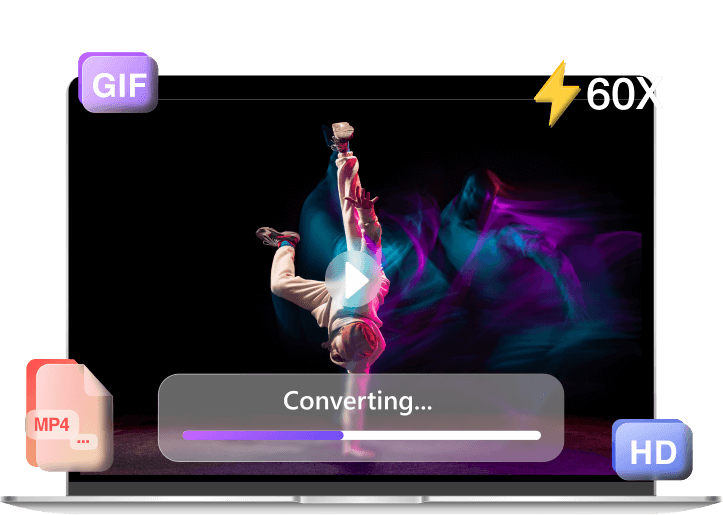 Pro Video Converter Software
No quality loss - keep the original quality or up to 4K, 2K, 1080p
Easily convert up to 30 files at the same time with just one click
Download files from URLs and convert to MOV in one place
Best MOV Converter – VeeLark
On the VeeLark .mov converter, you can easily convert your MOV files to other video/audio formats in seconds. Alternatively, you can also convert files to MOV as you wish. It's precisely the reliable and powerful online tool that makes the conversion simple and fast.
File Converter to MOV

With VeeLark File Converter to MOV Tool, you can change the format of any file you want to MOV. It works with more than 250 video and audio formats, such as MP4, AVI, MKV, VOB, and GIF.

Convert MOV to Other Formats

Not only that, our MOV File Converter also allows you to convert from MOV to any of the other 250+ video or audio formats. You can change files in seconds as per your requirement with ease.

Online MOV Converter Free

As an online .mov converter, it doesn't require you to download any extension or bulky desktop program that takes up your storage space on device. What's more, it's totally free during the conversion process.
How to Convert to MOV File?
Step 1. Upload or Drag a File

Click on "Upload File" or drag and drop the MOV files to the online .mov converter.

Step 2. Choose Output Format

Open "Convert file to" drop-down list and select your preferred output MOV format.

Step 3. Convert to .mov File

Hit the Convert button to change format. Then click on Download button to save it.
What Sets VeeLark .mov Converter Apart from Others
Easy and Clear Interface

The interface is clean and straightforward, so you can quickly get the files you want even if you don't have any tech knowledge about MOV files conversion.

Speedy Conversion Process

With the help of advanced acceleration technology, turning files to MOV or from MOV files to other formats in a matter of minutes is a breeze.

Privacy Protection

We keep your information secure all the time. Thus, you do not need to log in for file conversion and all the uploaded files will be deleted after 2 hours.
FAQ
1. What is the best MOV file converter for Mac?

VeeLark online MOV video converter is the best MOV file converter you can find. It features a simple and intuitive interface with multiple conversion options. On top of that, it works smoothly and conveniently on any operating system, including Mac. You can change files to MOV with ease and confidence.

2. How do I convert MOV to MP4 for free?

Looking for a free way to change MOV to MP4? You're in the right place.
1. Go to Free MOV Converter and import the .mov file to the conversion area.
2. Select MP4 as the target format and click on the Convert button.
3. Once the conversion is done, hit the Download button to save the new MP4 file.

3. Is it safe to convert file to MOV via VeeLark QuickTime Converter?

We value your privacy and security. That's why we use 256-bit SSL encryption to protect your files from unauthorized access. In order to protect your personal info, we don't even require any login or signup. All the conversion process is totally safe.

4. What browser can I use to convert MOV files?

Our platform works on any browser to convert MOV files smoothly. Whether you use Chrome, Safari, Edge, Firefox, or any other browser on any device, you can enjoy our service. We strive to offer you the best user experience ever.

5. Is it possible to convert to MOV file in batches?

Absolutely! The Pro MOV Converter supports batch converting to MOV with no quality loss. Just upload your file, choose your desired format, and convert it. Our program will handle the rest.
Rate Us Now!
If you like our online MOV converter, please give us 5 stars.
Last updated: 2023-06-04