Best MP3 to WAV Converter Free
Handle MP3 to WAVE conversion with a few clicks
Get Pro MP3 to WAV Converter Download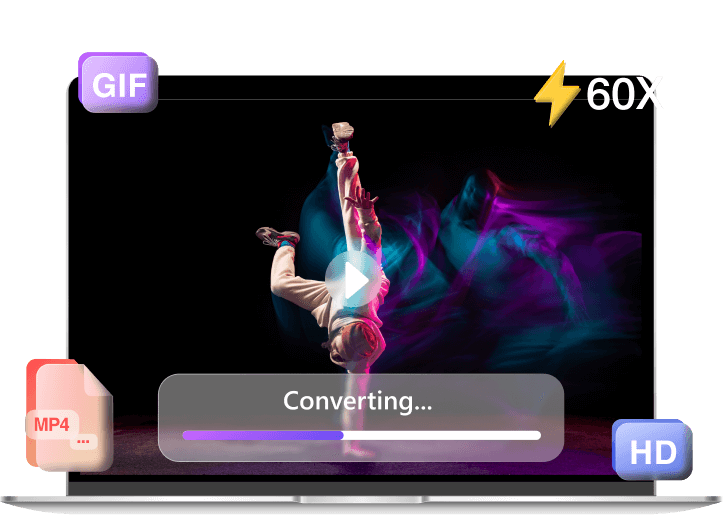 Pro Audio Converter Software
Convert MP3 to any of 500+ formats and vice versa
Batch convert multiple MP3 files to WAV at 60X speed
Get Conversion with zero quality loss or 320kbps quality
Unparalleled MP3 Converter to WAV Utility
Although MP3 is the most common audio format, it suffers from quality degradation due to compression. WAV, on the other hand, preserves the original audio quality preferred by audiophiles who care about sound fidelity. If you wish to convert MP3 file to WAV, you're in the right place. With our VeeLark free online site, you can easily get desired output in a few steps.
Free MP3 to WAV File Converter

Turning MP3 into WAV on our site does not require you to pay any fees or hidden charges, thanks to its free service for anyone. Thus, all the features on our platform can be used by anyone without limitations.

Change .mp3 to .wav Online

With the VeeLark MP3 to WAV online converter, you can easily get desired output in WAV format without the need for extensions or third-party software. Plus, there is no need to create an account or log in.

Safe MP3 to WAVE Converter

Concerned about safety? Our platform is one of the most reliable MP3 to WAV downloaders available. It's free from any infections, such as plug-in ads or viruses that could harm your devices and steal personal info.
How to Convert MP3 to WAV Free?
Step 1. Import MP3 Audio File

Visit MP3 to WAV Tool and click on "Upload File" to select the MP3 audio file from your device. Alternatively, drag and drop the file into the box.

Step 2. Turn MP3 into WAV

Hit the "Convert file to" drop-down list and select WAV as the output format, or choose any audio format you need. Then click on the Convert button.

Step 3. Download WAV File

Once the conversion is done, hit the Download button. After that, your fresh WAV file will be saved to your device in the blink of an eye.
Specialized Features of VeeLark .mp3 to .wav WebApp
Support Multiple Audio Formats

Whether you wish the MP3 to WAVE conversion or MP3 to any other audio format, our platform has got you covered. With over 250 popular audio formats to choose from, you can convert MP3 files with ease.

No Browser Limitations

Our online .mp3 to WAV tool adapts to devices like desktops, laptops, tablets, and smartphones. That's to say, you can access our site by any default browser, including Chrome, Safari, Edge, Firefox, etc.

Quick and Easy Conversion

Thanks to the advanced algorithms and technologies, VeeLark MP3 file converter delivers fast conversion results in seconds. What's more, its simple and intuitive interface also makes the conversion easier and quicker.
Differences between MP3 and WAV
| Comparison parameter | MP3 |
| --- | --- |
| Description | MP3 is the most popular audio format for consumers because it has exceptional compatibility with different devices and platforms. It can be played by almost any media player, such as Windows Media Player, iTunes, Real Player, etc. Moreover, it uses lossy compression, which means some data is discarded during the encoding process, but the audio quality is not affected too much. MP3 files are therefore much smaller than other audio formats, such as WAV or FLAC. |
| File extension | .mp3 |
| Developer | Moving Pictures Experts Group |
| Compression | Lossy |
| File size | Smaller |
| Comparison parameter | WAV |
| --- | --- |
| Description | WAV is an audio format that captures sound in all its richness and detail. It is a container file that can store music, voice, and effects. However, it is less widely compatible than MP3. Usually, it works best on Microsoft Windows systems and media players like Windows Media Player, VLC, etc. Plus, despite its bigger size, the WAV format produces high-quality audio that is uncompressed and lossless, which is favored by musicians who value higher audio quality. |
| File extension | .wav |
| Developer | IBM & Microsoft |
| Compression | Lossless |
| File size | Larger |
Rate Us Now!
If you like our online MP3 to WAV converter, please give us 5 stars.
Last updated: 2023-06-04